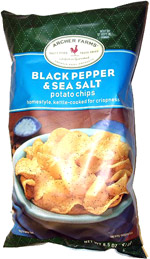 Hi Meltingpot Readers,
I must confess. I plan to hijack the Meltingpot for the next few months to bring you updates from the Kinky Gazpacho roll-out experience. As I travel around promoting my book, the stories that come up and the people I meet who want to share their own Kinky stories are begging to be shared here on the Meltingpot. So I will. Be warned.
But that doesn't mean I will neglect the original mission of the Meltingpot, which is to examine the instances where cultures collide in this here funky world we've created. For example, yesterday when I was shopping at Target, America' favorite Everything store, a bag of potato chips caught my eye at the check-out aisle.
The chips were (Target's store brand) Archer Farms, "Curry-flavored" baked potato chips. I chuckled to myself because one, I've never heard of a curry-flavored potato chip and the fact that I was discovering them for the first time at a suburban Target store seemed unusual. But wait, there was more. Right under the Curry Flavored Chips were...wait for it..."Jamaican Jerk" style baked potato chips. So here we have harmoniously coexisting on one display case, flavors from around the world. A true Meltingpot experience right there at Target. How deliciously unexpected, I thought.
I would think the Target big wigs would be too traditional to offer up such exotic snack fare, but then again, Target does seem to be taking a multi-cultural approach to product development. They do bring in the Global Village to hawk once a year and Mr. Multi-cultural, Tiger Woods is their favorite foundation partner. So maybe it was my limited vision of Target that caused me to be so surprised by their spicy snacks, but either way, it made my day.
By the way, anybody ever tried a Curry potato chip? Having done some research, I now know that Lay's also makes a curry potato chip. I've never actually seen those in real life either. But they do sound tasty so I may have to go on a mission.
Until then...
Peace!
p.s. (The photo is obviously not the Curry or Jamaican chips, but the bag looks the same in case you're so hungry for Curry chips you're going to run out to the store right now and buy some. If so, tell us how they taste!)