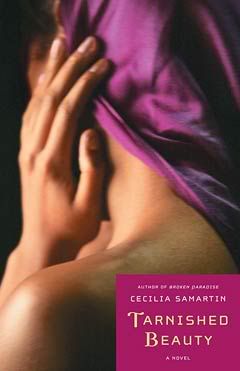 So today officially marks the beginning of National Hispanic Heritage month. Why does the celebration start on the 15th of the month instead of the 1st? Because September 15th is the day that Costa Rica, El Salvador, Guatemala, Honduras, and Nicaragua all declared their independence. And Mexico's day of independence comes one day later, on September 16.
So what can you do to celebrate? How about reading Cuban author,
Cecilia Samartin's
latest book,
Tarnished Beauty
. The story is about a, poor, young Mexican woman who is born with a horrific birthmark that covers most of her backside. In her small town she is ostracized and tormented because of it. After a certain series of events, she decides to cross the border to El Norte, where she believes she will find a doctor who can remove the Mark. Once she makes it to California she finds a job in a mental hospital, where she meets a mysterious old man from Spain and the two of them develop a very interesting relationship.
I just finished the book and LOVED it. It was so good, I'm reading some parts over again. For me it had all of the elements of a good read; A foreign setting, unique multicultural characters that aren't cast as stereotypes, some humor, romance, and a nice dose of the divine. Samartin, an author I've never heard of previously, is a gifted writer who reminds me a bit of Isabelle Allende but with a more light-hearted approach to story-telling. Her previous book, which I will be looking for immediately, is called
Broken Paradise
and just won the International Latino Book Award. Bravo!
Peace!
p.s. The only thing I don't endorse about the book,
Tarnished Beauty
is the cover. It is very misleading and says nothing about what the story is about. Wondering what the paperback will look like...