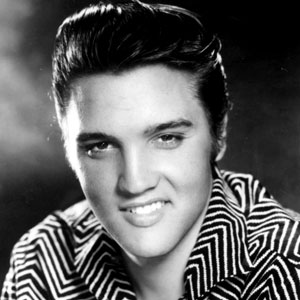 Hi Meltingpot Readers,
As you know, I'm all about discovering more about our meltingpot lives. It fascinates me to no end to witness how cultures clash, co-mingle and cozy-up in these United States of America and yet we still like to maintain the myth that this country is a purely segregated one. Ha! I laugh at the notion that people of all different colors and stripes haven't been living, loving and laughing together since day one.
That's why I was tickled pink to discover, while I was down in Virginia, that Elvis's mother was Jewish. Did anyone else know that the King of Rock and Roll belonged to the Chosen People? Why is this not common knowledge? Although all of the Jewish folk I spoke with in Virginia did say that most Jewish people did know that 'Elvis was one of theirs.' Apparently, Elvis was known to wear a religious necklace towards the end of his life and he had a Star of David put on his mother's gravestone.
As I understand it, while his mother was Jewish, she did not practice the faith. But this needs to be checked. Does anybody else know anything about Elvis's Jewish heritage? How do you think this information would have effected his career had it been common knowledge during his day as the King? What about now? Do you think it was deliberately suppressed? Here is a
website
that explains Elvis's Jewish heritage. I cannot verify its accuracy, but it seems to be the same information the historian in Virginia shared with me, but in more detail.
So, if anyone knows more, tell us about it.
I'm listening.
Peace!