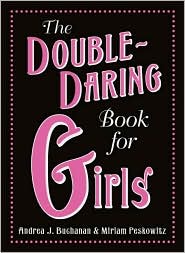 Dear readers, you all know (I hope) that I love my sons. More than life itself. But I have to admit that I weep a few tears when it comes to selecting books for them. I want to pass along all of my favorites, like
The Little House on the Prairie
collection and my favorite series,
Anne of Green Gables
. But instead, I'm buying the latest installment of
Captain Underpants
and anything with Spiderman prominently featured in the title. (sigh).
And now to throw salt in my literary wounds, the women behind the great
Daring Book for Girls
phenomenon have gone and written a new, even more exciting follow up, aptly titled,
The Double-Daring Book for Girls
. The pink sparkly script on the cover set against the dramatic black background had me at "hello." Of course, I cannot in good conscience buy this book for my macho sons, but I can share a great interview I conducted with Daring co-author,
Miriam Peskowitz
, who made me feel like it was okay for big girls like me to fall in love with this book.
The MeltingPot: What makes this book Double Daring? Is it for older girls or for girls with more guts, perhaps?
Miriam Peskowitz:
In many ways Double-Daring is more of what people love about the original Daring Book for Girls--a bubbling combination of stories, activities, and things to do outdoors. But we've thought more about what it means to be daring, to take up the journey of our lives, to get in the game, to follow our dreams. I think this colors the book in a new way. There's a wonderful chapter of quotes about courage, because in most of our lives we need more of the boisterous mix of courage, confidence and daring. The book is still for the same age group, meaning, 7-14 year olds, and the 7-14 year old in all of us, no matter our actual age.

The Metltingpot:
I lover the color scheme on the cover, did you pick that out?
MP:
Isn't it great? I'd love to claim it, but sadly, I can't! I've got very little color sense. We're lucky to have a great team that helps us with art and design.
The Meltingpot
:
A lot of Meltingpot readers want to find books that take into consideration their ethnic and cultural background. Do you think they'll find their meltingpot mojo satisfied by this book? Can they feel confident in buying it for the colorful children in their lives?
MP:
I hope so. I really hope so, and it's something we care deeply about. We want all girls to find a bit of themselves here, and we hope all girls can see each other, too. The pictures of girls in the book are multicultural and multi-ethnic, and that's important to us, and to our illustrator, who drew them, and we worked hard at that. The book isn't preachy, or politically correct, and our vision is utopian, which means we try to be colorful in subtle ways. This comes up in the chapters we write about daring women. There are stories of some of the amazing women who escaped slavery on the Underground Railroad--and then helped others escape, girls and women like Harriet Tubman and Harriet Jacobs and Anna Maria Weems. There's a chapter on Cowgirls of the Nineteenth Century, because these ladies were extraordinarily interesting. Most people might think that all cowgirls were white, but one of our stories is about a cowgirl named Johanna July who was Black Seminole.
I could go on and on, but I'll end by calling out our gorgeous multi-racial girl who--hold the presses--is taking the oath of President at the end of our chapter on How to Become President of the United States of America!
The Meltingpot: I love it that you've included random information like the word for trail mix in New Zealand is scroggin and that Harriet Tubman's real name was Araminta Ross. First, how long did it take you to do the research for this book and second, do you always win when playing Trivial Pursuit?
MP:
I never used to win at Trivial Pursuit, but perhaps I should try again! I can say that after finishing the Double-Daring Book for Girls, I now know more of the hand signals for the game of Charades than I knew before, and some good tips on how to win at Tic Tac Toe, both the American version, and some global tic-tac-toe games from Ghana, China and France, too. My co-author Andi and I both love the facts about everyday acts; it provides much richness and story to them. But you asked a specific question, and here's the answer: The book took six months, and a lifetime, to write. The six months were the hardest, because I had to sit still and put it all into sentences.
The Meltingpot:
I think I want a copy of this book for myself, it's so chock full of fun, useful information. Do you think grown-up girls like myself should feel daring enough to go buy it knowing full well we have no little girls in our lives?
MP:
Well, one never really knows when a little girl might enter our life, right?
Lots of grown women like the book, and lots of elderly women too. I think that the Daring books offer a different take on being female, and we all need that. In the books, being female is intriguing, and interesting, and fun, and that's not the usual message that girls and women receive. Several girls have told me that the book makes them feel grown up in a good way, because we don't "write down" to them, even though it's ostensibly a kid's book. The prose is adult-level. We're very respectful of girlhood, and of preserving a special time where girls can be girls and don't have to become little women before their time. But we don't water down the tidbits of info, and the stories, just because our main readers are girls. I think they appreciate that.
The Meltingpot: Last question. Should we expect a Double-Double daring book for girls in the future? What's next in the Daring franchise?

MP:
Maybe a Triple-Dog-Daring would come next? Stay tuned!
FYI, Peskowitz, was a college professor before becoming the Queen Bee of daring girls. She is also the author of the book,
The Truth Behind the Mommy Wars
. She's a very smart lady and a generous one too. She gave me a signed copy of
The Double-Daring Book for Girls
to giveaway here on the Meltingpot. The book just came out on Tuesday, so this is a hot commodity. If you want to be in the drawing, leave a comment with the most daring thing you've ever done by Sunday midnight. And you don't have to be a girl to enter.
Peace!