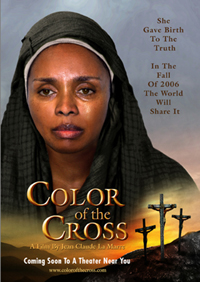 I haven't seen it and I'm not endorsing it, but I am intrigued. There's a new film on it's way to a cineplex near you called Color of the Cross. Like the Passion of the Christ, it depicts the last couple of days of Jesus' life, including the crucifixion. BUT and here's the big deal, in this movie, Jesus is BLACK. And I don't mean tan with wavy hair, I'm talking an authentic negro with an afro and everything. Jesus is played by actor Jean-Claude LaMarre, who also wrote and directed the film.
The movie is scheduled to be released in select cities on October 27. That's today. If you're at all interested in finding out if the color of Jesus' skin could have had anything to do with his persecution, then try to see the film. (Also if you want to see what Ananda Lewis has been up to since they cancelled her talk show, check out this movie.)
What's interesting to me is that the news media is already calling the movie controversial because Jesus is Black. That to me isn't really controversial. As one reporter wrote, in every other country in the world, Jesus looks like the people of the land. In Japan, for example Jesus looks Japanese. So why shouldn't he be darker hued for the Black American people who want to see themselves in the image of the son of God?
Just as an aside, when I was in Spain recently, I discovered that one of the most popular religious icons in the whole country is Jesus de Medinacelli. And guess what? He's a Black Jesus! Go figure. So why the controversy here people?
For more about the movie check out the website here:
color of the cross
If anybody goes to see the film let's hear your thoughts.
Peace Out!