Hello Meltingpot Readers,
I am having a great time compiling my list of White People Who Tell Black Stories for Black History Month. Thanks to all of your thoughtful comments, I'm really thinking about things differently, asking myself questions I hadn't before. Most importantly, I'm wondering, does it really matter who is telling these stories? Isn't it more important that the stories are being told? Today's author is a great example.
Meet
Dave Eggers
. Famously known for his 2000 memoir,
A Heartbreaking Work of Staggering Genius
, the literary magazine,
McSweeneys
and other things literary and liberal, his career took a different turn in 2006 when he wrote,
What is the What
.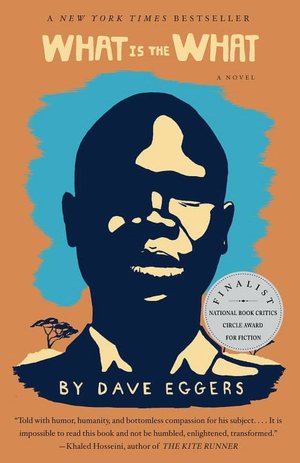 What is the What
is a fictionalized autobiography of Valentino Achak Deng, one of the Lost Boys of Sudan. Eggers spent years interviewing Deng, originally intending to help him write his own life story, but the two soon agreed that Eggers would write the book. Eggers decided to call the book fiction to give himself the freedom to fill in the gaps that Deng could not remember of his harrowing journey from Sudan to the United States. The book received excellent reviews and was overwhelmingly praised.
"
What Is the What" is an extraordinary work of witness, and of art." The New York Times
"
Hands down, Dave Eggers' What Is the What stands as the single most thought-provoking, unusual and moving book I have read all year." USA TODAY
"
With its perfect blend of epic sweep and small, intimate moments, it stands worthily alongside the best work of Chinua Achebe, Amos Tutuola and Ben Okri." Seattle Times
THE SUCESS: A New York Times Bestseller, What is the What also won the Prix Médicis in France. It has been selected as the summer reading book for incoming Freshman at universities across the country including this year's incoming class at Duke University. But here's the catch. All of the proceeds for the book went to support the Valentino Achak Deng Foundation.
GIVING BACK: Let's review. So Dave Eggers, a White man, who garnered much literary praise and success for his book about a Black man's life, made sure to compensate that Black man for sharing his life story. I don't know how "proceeds" were defined between Eggers, Deng and the publisher, but I also don't really care, because the proof is the continued success of the VAD foundation. Check out their website to see how much has been done and continues to be done. If Eggers hadn't lent his considerable talents and established name to getting Deng's story out there, would the
Marial Bai Secondary School even exist? Would Americans be as aware of the struggles of the people in Sudan? Would they have a real face to put on a Lost Boy's story?
Is there a difference between collaboration and appropriation and just plain stealing? Who knows the rules?
I'm listening.
Peace!